There is an outstanding impact of mobile technology in our daily life. No doubt, we cannot do without the mobile technology. Take a second on this; consider being separated from your smartphone for at least a month. I doubt you will be able to cope with that. Those apps, internet connectivity, daily email reminders and scheduling, and voice dairy updates will be unavailable to monitor you.
Mobile phones, PDAs, laptops are integrated into nooks and crannies of our lives, business and also relationships. Trying to state the utmost importance mobile technology in our society today is as trying to state tomorrow. You would want to ask what the impacts are.
Well, when you are considering the importance of mobile technology in our environment, you wouldn't need looking further than your fingertips. With mobile tech devices (phone. PDAs, laptops etc.), the whole world is at your finger. It is necessary to narrow down few tips you are familiar with about mobile technology and us.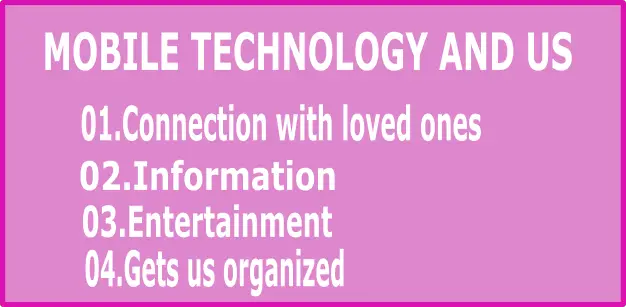 Connection with loved ones:
even your enemies can be connected with using your smartphone and other accessories. IT has tremendously advanced mobile devices to a great extent today. We have internet that allows us to chat with friends, video connect with families to see how they faring, and to access various social media websites. Without much discussion, I am sure you are aware that billions of individual access the social media once every five minutes. You should also know that with social media we are all "a global village." Yes village! You know what that means? We can reach out to anyone, anytime and anywhere.
we all know that information is key to us. Imagine living in the age where everything you need to know is either in the library or other sources which would take time before you access it. Now, you've got every kind of information we need living with us daily. So long you're got connected with the internet, you can access any information from anywhere and at any time. Isn't this fantastic?
Even if you're a loner, you cannot deny the fact that you make use of mobile tech. with your digital device connected to the internet, you are in the midst of entertainment. And while entertainment, you're learning as well. The fact is; "very little pay attention to TV or Radio systems because they have them inbuilt in the smartphones." Another interesting thing in this regard is that our TV and sound systems have been greatly digitalized with tools that allows us to access the internet and connect with the outside world. Aside your mobile devices, you can access YouTube, Netflix, Facebook, twitter and other websites on your TV set – this gets you entertained from time to time.
with features like documents, voice mails, calendars, alarms and many more integrated in your mobile phone, your day is organized. Nothing keeps us settled and collected than having our PDAs around us to check us on how we are to meet up with our day goals.
With mobile phones, you can easily book flies, cabs, hotels and also buy absolutely anything online. With mobile apps of enterprises, you can easily access and purchase goods and services. You will be to monitor how goods are moved and services deployed.